Dog Sled In The Majestic Alberta Canadian Rocky Mountains!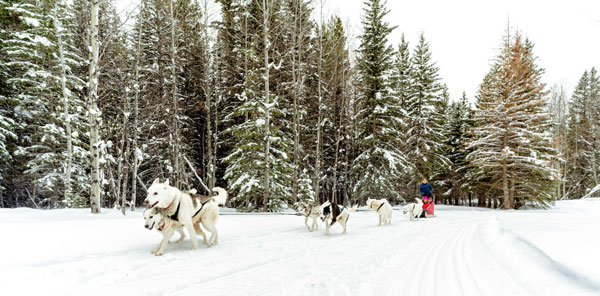 Approximately 1.5 hour Experience
9:30 am, 11:30 am or 2:00 pm
Guide Driven Sled - $450.00
Client Driven Sled - Config A = $475.00
Client Driven Sled - Config B = $640.00
Based at beautiful Boundary Ranch deep in the Kananaskis Valley, our professional mushers will take you on a unique and personal dogsledding adventure
Dogsledding is dependent on snowpack on the ground to operate, so dates of availability may vary
Join us for some quality outdoor recreation and the opportunity to learn about Alberta's history and heritage
HUSKY DREAMCATCHER TOUR
A Taste Of The Canadian Rockies Winter Wonderland
The tour begins with a brief instruction
A meet and greet with the huskies and the opportunity to assist in preparing for the trip
Set off on your journey through the snow covered forest surrounding Boundary Ranch aboard the dogsled
Stop to explore an authentic Teepee while learning about the Aboriginal way of life and how dogsledding played an important role in Alberta's History
Sip some hot chocolate and enjoy a home-made cookie before you embark on the rest of your journey
Onto the Buffalo Viewing Paddock to get a close up view and take photos of our resident Canadian Plains Bison herd
The Trappers Cabin, just up the trail, offers some history of Kananaskis Valley and includes a display of artifacts from the days of trappers and prospectors
Climb aboard your sled for the final leg of your trip back to Boundary Ranch
Remember to enjoy the serenity of winter in the mountains
TOUR ADDITIONS
Picnic areas available Gratuity not included
Reservations are required: please book in advance online below, or by Info Request, phone or email
Dog Sledding packages are subject to availability

Call to see if we have this adventure going and you can join on, 1-877-591-7177

Dog Sledding season operates at Boundary Ranch from December to April

Specific season dates are weather dependent
Please choose a date below to see if we have a tour going. Available dates will be highlighted in green. Call us if you have any questions regarding the reservation process.
Be sure to check out the different ways to configure your sled with our
Searching Availability...
|
Other Rides & Adventures
Jennifer
Hunter Valley, Australia
Great location, great food, very friendly staff. Will definitely recommend to family and friends.
The Nappers
Ontario
We had so much fun. My kids had never been on a horse before and they loved it. Thank you so much for such a good time.
The Greets
Belgium
Great trip, beautiful view, friendly people, nice horses. We enjoyed it here! Thank you.
Kelsey & Brian Atamanchuk
Beaumont, AB
We had tons of fun, great horses and great scenery.
Linda Hunter
England
Great ranch, Great food, Great people!
Thornton Family
Antler Lake, AB
Fantastic family experience. Thank you!!
Maggie
Queensland, Australia
A truly magical place!
Angela Hockley
Calgary, AB
This is a perfect way to spend a fall morning!
Daniel and Simonne Fraser
Blackstone, MA, USA
Loved this place so much!!
Foley Family
This is a perfect getaway from the city for a family day!
Sam Prior
Thanks to all at Boundary Ranch for a great holiday (vacation). We come from Montreal, Quebec not knowing what to expect and we had a real rocking holiday (vacation to you dudes).
Stephane Cote
Can't wait to go ride your beautiful horses again.
Brian Norg
What a wonderful experience! Did the 2 hr ride, was a great mix of level and tricky trail riding with great scenery. Loved the great steak lunch after the ride. Great job done by all!
Radu Luchian
Great beginner horseback riding experience. The horses are well behaved, the staff is friendly and accommodating, food's great. The trail, however, is mostly on forested paths, with only one clearing available to admire the wonderful mountain views; there's no freeriding available, even in the corrall; if you want to hear the running commentary from the trail leader, you need to be in the front 2-3 positions.
Arash Zarimani
This is a very easy to find ranch and it is very clean and well organized. We did a full day trip with our guide, Nick. The trail and the views were breath taking. We were able to see deers and also some grouse birds. I highly recommend this ranch to all people regardless of your riding experience.