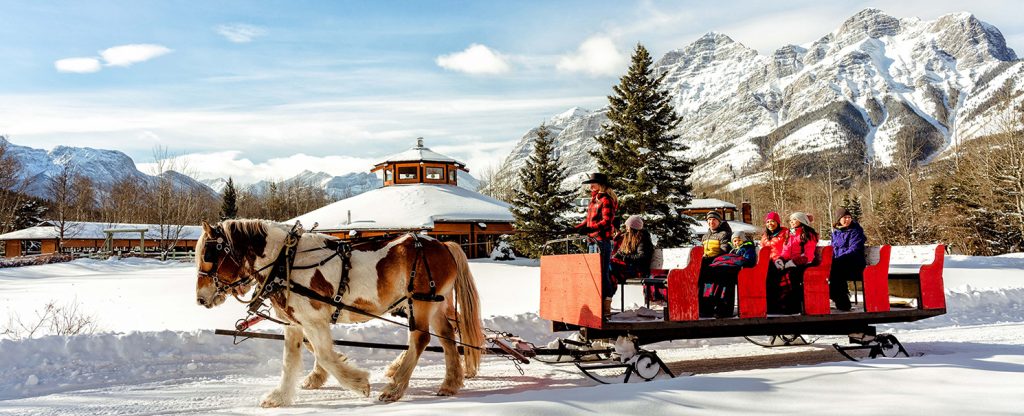 Approximate 30-45 minute Sleigh Ride
9AM, 11AM, 1PM, 2:15PM, 3:30PM, and 4:45PM
Please arrive a minimum of 30 minutes prior to the ride departure time
Marshmallow Roast : $2.95
Additional Beverages can be purchased on arrival
B
oundary Ranch welcomes you to enjoy an old-fashioned horse drawn Sleigh ride.  Cuddle up under a cozy blanket with your hot chocolate and be amazed at the winter oasis and snow covered forest along the beautiful trails surrounding Boundary Ranch.  A stop at our Buffalo viewing paddock for photos will give you a chance to enjoy Canada's largest land animal from the comfort of the Sleigh.  A turn around at the Teepee Village showcases some Local Native Heritage before heading back to the Ranch for an optional Marshmallow or S'more roast (additional cost) around the crackling bonfire. Feel free to do some shopping in our gift shop after your tour or enjoy an additional beverage (additional cost).
The sleigh/wagon has vinyl padded seats with wood backs for your comfort. Please bring your own blanket to cozy up under and dress for the weather. Small lap blankets can be provided should you require them. Depending on snow conditions a wagon may be used in place of the sleigh. Guests will need to remain seated and on the sleigh/wagon at all times for the duration of the ride. If you have questions or concerns please reach out to us, we are more than happy to answer any questions you may have.
|
Other Rides & Adventures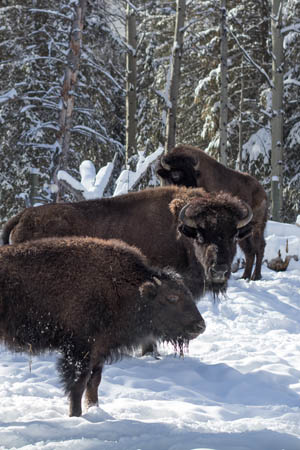 The Wagon/Sleigh Ride Package includes:
Approximately 30-45 minute Horse-drawn Sleigh/Wagon Ride
Stop at the Buffalo Viewing Paddock
Turn Around at the Teepee Village (trail conditions permitting)
One cup of Hot Chocolate
Additional Options:
Marshmallows to be roasted over the bonfire
S'mores to be roasted over the bonfire
Irish Cream to add to your included hot chocolate or coffee
Additional Beverages
Please call should you have any questions or need assistance with your reservation. We also have an 18 hour booking window for online reservations. Please call if you would like to book within this window and we can see if there is space for your group.
For reservations please select the date you'd like to go from the calendar below then the item you'd like. Call us if you have any questions or don't see the time available as we sometimes hold back inventory.
Searching Availability...
Jennifer
Hunter Valley, Australia
Great location, great food, very friendly staff. Will definitely recommend to family and friends.
The Nappers
Ontario
We had so much fun. My kids had never been on a horse before and they loved it. Thank you so much for such a good time.
The Greets
Belgium
Great trip, beautiful view, friendly people, nice horses. We enjoyed it here! Thank you.
Kelsey & Brian Atamanchuk
Beaumont, AB
We had tons of fun, great horses and great scenery.
Linda Hunter
England
Great ranch, Great food, Great people!
Thornton Family
Antler Lake, AB
Fantastic family experience. Thank you!!
Maggie
Queensland, Australia
A truly magical place!
Angela Hockley
Calgary, AB
This is a perfect way to spend a fall morning!
Daniel and Simonne Fraser
Blackstone, MA, USA
Loved this place so much!!
Foley Family
This is a perfect getaway from the city for a family day!
Sam Prior
Thanks to all at Boundary Ranch for a great holiday (vacation). We come from Montreal, Quebec not knowing what to expect and we had a real rocking holiday (vacation to you dudes).
Stephane Cote
Can't wait to go ride your beautiful horses again.
Brian Norg
What a wonderful experience! Did the 2 hr ride, was a great mix of level and tricky trail riding with great scenery. Loved the great steak lunch after the ride. Great job done by all!
Radu Luchian
Great beginner horseback riding experience. The horses are well behaved, the staff is friendly and accommodating, food's great. The trail, however, is mostly on forested paths, with only one clearing available to admire the wonderful mountain views; there's no freeriding available, even in the corrall; if you want to hear the running commentary from the trail leader, you need to be in the front 2-3 positions.
Arash Zarimani
This is a very easy to find ranch and it is very clean and well organized. We did a full day trip with our guide, Nick. The trail and the views were breath taking. We were able to see deers and also some grouse birds. I highly recommend this ranch to all people regardless of your riding experience.