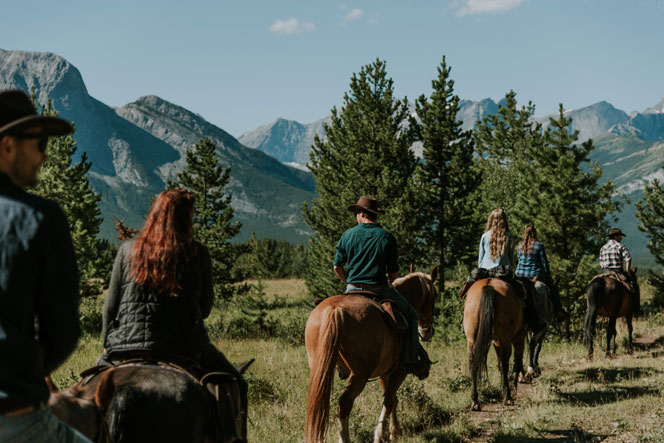 Approximate 3.5 hour ride
Please arrive a minimum of 30 minutes prior to the ride departure time
A Half Day Alberta Canadian Rockies Adventure!
The Trail Blazer tour combines many of the trails surrounding Boundary Ranch
A sneak peek into the Adventure Ride or one of our amazing Pack Trips
Our Wranglers enjoy guiding you on their favourite routes and taking you to the most scenic locations in the region
This ride gives you the opportunity to travel deeper into the Kananaskis Range and experience the serenity of the backcountry
We pack a snack to enjoy at a brief rest stop, and then jump back in the saddle for more exploring and captivating landscapes
Reservations are required: please book in advance below, phone or email
Trail Blazer packages are subject to availability and require a minimum of four (4) participants to operate

If unable to book online, call to see if we have this adventure going and you can join on, 1-877-591-7177
We can add your group of three or less to a waitlist for this great adventure

Riding season operates at Boundary Ranch from May to October

Specific season dates are dependent on the weather
|
Other Rides & Adventures
Jennifer
Hunter Valley, Australia
Great location, great food, very friendly staff. Will definitely recommend to family and friends.
The Nappers
Ontario
We had so much fun. My kids had never been on a horse before and they loved it. Thank you so much for such a good time.
The Greets
Belgium
Great trip, beautiful view, friendly people, nice horses. We enjoyed it here! Thank you.
Kelsey & Brian Atamanchuk
Beaumont, AB
We had tons of fun, great horses and great scenery.
Linda Hunter
England
Great ranch, Great food, Great people!
Thornton Family
Antler Lake, AB
Fantastic family experience. Thank you!!
Maggie
Queensland, Australia
A truly magical place!
Angela Hockley
Calgary, AB
This is a perfect way to spend a fall morning!
Daniel and Simonne Fraser
Blackstone, MA, USA
Loved this place so much!!
Foley Family
This is a perfect getaway from the city for a family day!
Sam Prior
Thanks to all at Boundary Ranch for a great holiday (vacation). We come from Montreal, Quebec not knowing what to expect and we had a real rocking holiday (vacation to you dudes).
Stephane Cote
Can't wait to go ride your beautiful horses again.
Brian Norg
What a wonderful experience! Did the 2 hr ride, was a great mix of level and tricky trail riding with great scenery. Loved the great steak lunch after the ride. Great job done by all!
Radu Luchian
Great beginner horseback riding experience. The horses are well behaved, the staff is friendly and accommodating, food's great. The trail, however, is mostly on forested paths, with only one clearing available to admire the wonderful mountain views; there's no freeriding available, even in the corrall; if you want to hear the running commentary from the trail leader, you need to be in the front 2-3 positions.
Arash Zarimani
This is a very easy to find ranch and it is very clean and well organized. We did a full day trip with our guide, Nick. The trail and the views were breath taking. We were able to see deers and also some grouse birds. I highly recommend this ranch to all people regardless of your riding experience.